Management Philosophy & Policy and Sustainability
We have a set of management philosophies that have been important to us since our founding.
The sustainability initiatives mentioned in the President's message will be a new challenge, but these principles will not change.
Company Policy, Vision & Mission
1.Company Policy
Our Company Policy incorporates the elements necessary for ESG management.
We believe that "good" in "create good products" and "well-made" means maximizing value for our customers, and that in addition to quality and specifications, we must also use environmentally friendly materials and production methods that enhance sustainability.
We also believe that a "bright and prosperous" company based on "self-reliance" means that we manage our business by placing the highest priority on protecting the health, safety, welfare, fairness, equality, job satisfaction, and livelihood of our employees, which is the foundation of our management, and that this will lead to our company's sustainable growth and continued provision of value to our customers.
We also believe that "steady, progressive, and harmonious" is the very foundation of our ongoing business, as we work to ensure governance, risk management, and compliance.
2.Vision & Mission
In order for us to "be the best partner" by "providing high quality and competitive products and innovative solutions," we believe that our commitment to sustainability is essential, as stated by the President. Therefore, together with our employees and business partners, we will continue to clearly hold this mission and conduct our business toward this vision.
Corporate Message on Sustainability
We regard sustainability as an important management issue, values its management philosophy, and is fully committed to promoting ESG management. Therefore, we have reiterated YAMADA Management Policy and mapped them to the elements required for ESG management.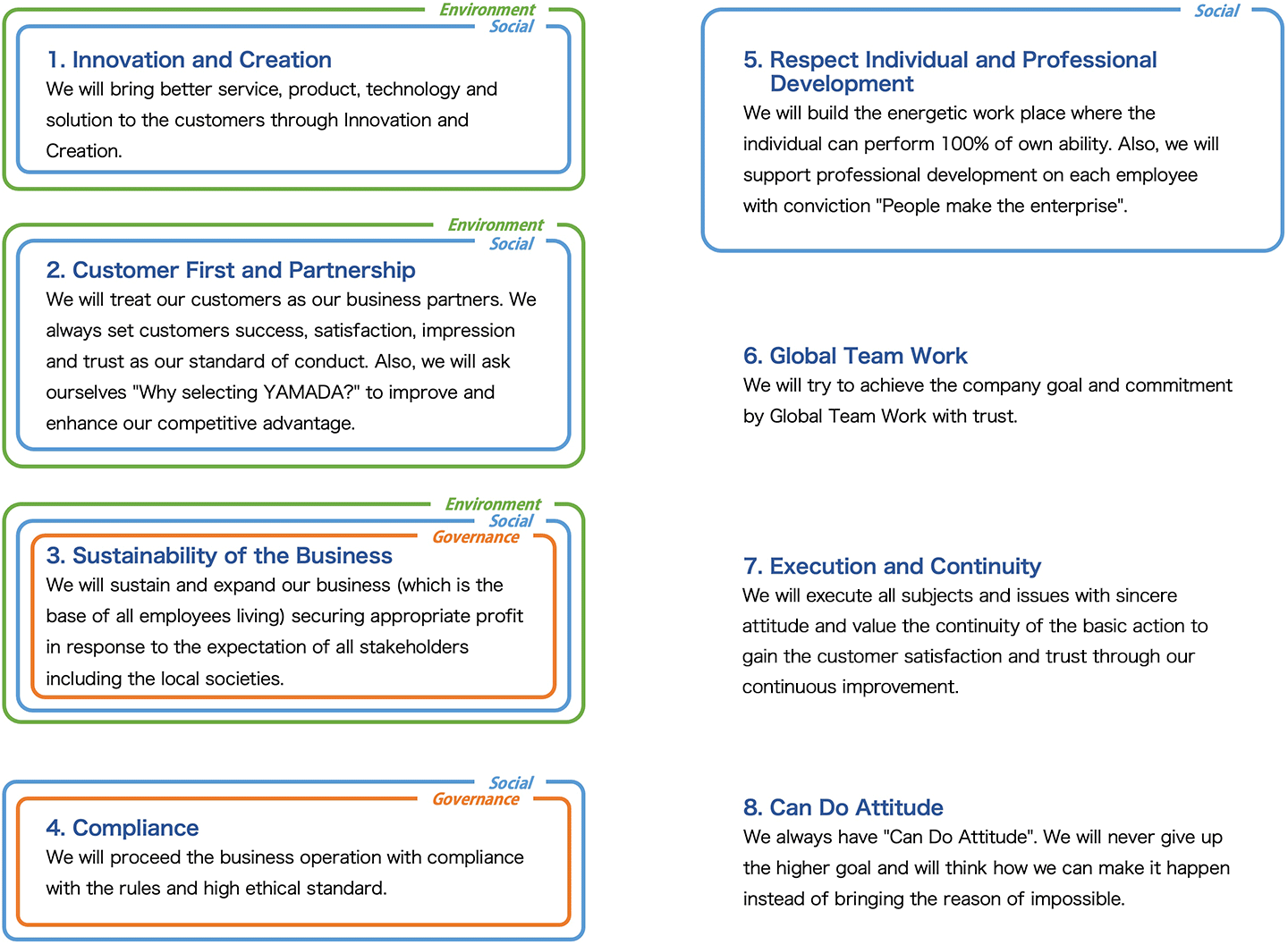 With the ESG factors mapped out in each clause in mind, we have developed basic policies and guidelines to guide our actions.
| | | | | |
| --- | --- | --- | --- | --- |
| Environmental Policy | Human Rights Policy | Corporate Governance | Community Involvement Policy | Sustainable Procurement Policy |
| | |
| --- | --- |
| Guidelines for Environmental Management | Guidelines for Sustainable Procurement |